A recent scientific study showed that when it comes to buying presents you should choose something you like, rather than guessing what the recipient wants. So with that in mind we present our gift guide, compiled just for you and packed with pressies you'll love. So whether it's a birthday, anniversary, Christmas, a thank you or telling someone you love them… there's a beery present for that
Beer & food pairing
We know we keep talking about beer and food pairing - and for good reason, it's fantastic! So we can't think of anything better than a tea towel with great beer and food pairings - what a good stocking filler..
Beer Map
Our eyes widened with wonder when we saw this, and we hope yours will too, one peak at this map and you'll wish you'd kept all your bottle caps.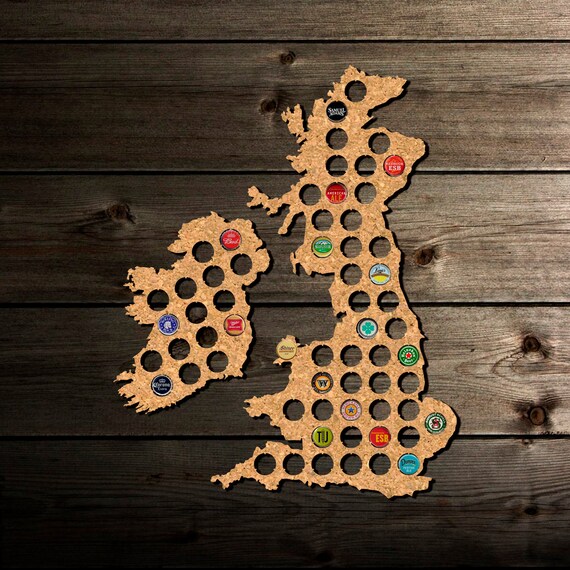 Beer pen
Who wouldn't be impressed with something functional and bespoke? A pen made out of the same ingredients used to make beer? It's only a shame we can't drink it.
Bottle openers
We've all got one hidden away in a drawer somewhere, on the side of the tin opener or 'borrowed' from the local pub but there's a whole world of bottle openers out there to be explored.
Key bottle opener
Bottle openers on keyrings can be bulky and unsightly, so step forward the key opener. Sitting stealthily amongst your everyday keys this functional addition to your keyring won't weigh heavy in your bag or pocket.


3-in-1 Hermetus bottle opener and sealer
This opens both pop-off and twist-off caps (we've all hurt our hands on the latter) and features a soft plastic gasket which reseals bottles and retains CO2. Perfect for cherishing your favourite beers over days.
BEER GAME
Think you know beer? How about you put that to the test with your friends?
Beer soap
Beer isn't just great with food, it's great in the shower too. Since beer is rich in vitamins, minerals, antioxidants and amino acids, it is an excellent treatment for your skin, and don't worry, you won't smell like stale beer afterwards.
Beer subscriptions
Intersperse the steady stream of bills and junk mail with beer, delivered fresh to your door each month. A great gift and the perfect way to discover new and wonderful beers.
BEER BODS
12 beers in the post every 12 weeks for £36. Subscribers are encouraged to each drink the same beer (just one) at the same time every week (Thursday evening at 9pm) and together share their thoughts on social media. Like being in a pub with friends but you've brought your own chair.
Honest Brew
Three monthly options: The Beer Club, which offers a changing selection of beer handpicked by HonestBrew. The Tailormade, 12 beers dictated by your own personal taste. The Treasure Chest, 12 hard-to-find beers tailored to your palate direct to your door.
Beer 52
8 to 10 beers every four weeks (plus the latest edition of Ferment Magazine) and you can choose a mixed case, which includes dark beers, or a light case, where the dark beers have been replaced with light beers.
Beer Hawk
Hand-picked beers every month delivered in a case of 8, 12 or 15. Cases will include the latest discoveries, seasonal delights and old classics and offers the perfect route for a journey into beer.
Gift cases
GREAT BRITISH BEERS MIXED CASE
With beer in Britain booming (there are now 1,700 UK breweries) this case of 15 bottles offers the perfect introduction to the variety of beer being brewed on our shores. Including wheat beers, IPAs, porters, lagers and much more there's something for all tastes.
Gift vouchers
The gift that keeps on giving. If you're not sure which beers to choose put the onus on them with gift vouchers. Beer Hawk offer vouchers up to the value of £250.
Brooklyn Brewery
One of America's most iconic breweries, this pack contains three beers (the Brooklyn Lager is a great beer match for steak) and a branded pint glass from which to enjoy them.
Leffe
Bring some Belgian flavour to Christmas with this classic Abbey beer in all its glory. One bottle each of Leffe Blonde, Brun, Triple and Leffe 9 plus 2 branded Leffe glasses. Superb beers for pairing with food, we recommend a glass of the blonde with a generous dollop of Epoisses de Bourgogne cheese.
Sharp's
A selection of the Cornish brewers most popular beers and a great intro to different beers styles. There's a pale ale (Atlantic), IPA (Wolf Rock), bitter (Doom Bar) and Extra Special Bitter (Sea Fury) with all offering lots of flavour and limitless food pairing options. Tip: try Doom Bar with roast chicken.
Fuller's Vintage Ale
Fuller's having been brewing on their site in West London since 1816 and are best known for their flagship beer London Pride. They've been brewing their vintage ales since 1997 and with this gift set get the 2014, 2015 and 2016 versions. Bottle conditioned these beers can be cellared to enjoy at a later date. Keep your eyes peeled for the now very rare 1997 versions, which are now worth over £500… if you can find one.
Affligem and wooden crate
The recipe for Affligem dates back to 1085 and while brewing moved out of the monastery in 1956 the monks still help the brewers at the newer facility create recipes for limited edition beers. Here you get 5 x Blond, 5 x brown and 5 x tripel all packaged in a sturdy wooden crate, alleviating the sometimes tricky storage conundrum.
Books
THE BREWMASTERS TABLE, BY GARRETT OLIVER
Garrett Oliver is brewmaster at the world famous Brooklyn Brewery in New York. This book takes you through how beer is made, its history and why beer is the perfect accompaniment to food.
Oxford Companion to Beer
A comprehensive guide to everything about the worlds' most popular drink. Covering style, science, ingredients brewing process, glassware, regions, cultures... you name it. The essential reference book for the beer curious.
Liquid Education: Beer: From Hop to the Perfect Pour
Whether you're a beer aficionado or you are just discovering beer, Will Hawkes' new book is the perfect accompaniment to learning all things about everyone's favourite drink.
Good Beer Guide 2017
The 44th edition of CAMRA's guide to pubs across the UK that serve the best real ale. All of the 4,500 pubs are nominated and evaluated by CAMRA members ensuring each one has been thoroughly tested.
Mastering Homebrew
With beer in Britain booming why not create your own delicious beer. This is the ultimate guide for the enthusiastic beginner right through to the experienced brewer.
Learn to brew
BEER ACADEMY VOUCHERS
The gift of knowledge. In addition to their foundation and advanced programmes, The Beer Academy run courses on beer and food matching and how to judge beer – the perfect pressie for beer enthusiasts looking to take their passion to the next level.
Brew School
For those keen to start brewing. Offering courses from an intro to home brewing right up to the 6-day commercial brewing course, there's a range of inspirational courses across all levels of interest.
Ubrew
Brewing taught by brewers, Ubrew courses are for the beginner looking to learn the process on actual brewing kit. The gift certificates includes the course, three beers to drink in the taproom on the day, and a six pack of the beer that they brewed themselves once the beer's ready to drink.
Brewlab
Brewlab courses are relevant to the first time brewer through to professionals. Sections of training take place in regional breweries and they also have their own 3.5 barrel brewery with a 100 litre trial kit. They also have our own kegging and bottling facilities. The full package.
LEARN TO BREW bEER courses
The go-to courses for those serious about a career in brewing. Three courses: Fundamentals of brewing & packaging, Diploma in Brewing, Master Brewer. You pass these, the brewing world is yours to discover and conquer.
Brewery tours
Explore the process of how beer is made by booking a tour of your nearest brewery. Most breweries offer tours and it's an experience not to be missed by beer lovers. Sniff the hops, taste the malted barley and, more often than not, enjoy a complimentary beer. Most breweries will offer vouchers so there's even something to open on Christmas day. From South to North, here are some breweries that offer tours:
Banks's Brewery, Wolverhampton
Timothy Taylor's, West Yorkshire
Beer loving restaurants
Treat a loved one to an amazing meal in a top restaurant, and when it comes to ensuring a meal is amazing you look to beer. Beer is a diverse and versatile drink – whatever dish you order from the menu there's a beer that will bring out the best in your food, perhaps much more so than with wine.
We've selected some restaurants from up and down the country with stunning menus and beers to match.
Michellin Starred Alyn Williams At The Westbury, London
Le Manoir Aux Quat'Saisons, Oxfordshire
The Mariners, Cornwall
The House of Trembling Madness, York
Friends of Ham, Leeds and Ilkley
Curry Leaf Cafe, Brighton
El Cartel, Edinburgh
Albert's Schloss, Manchester
Quilon, London
STAY IN A PUB vouchers
The festive period is not complete without treating friends and loved ones to a thoughtful gift - Stay In A Pub gift tokens can be purchased in multiples of £20, £25 and £50 and make unique gifts for pub lovers. Gift tokens can be purchased online here or by calling 01206 752571
Stay in a beer barrel
Okay, you don't spend the whole weekend in one beer room but you do get to sleep in one that has a beer barrel bed. Airbnb are offering accommodation in Ostbevern, Germany where you can choose from one of three beer rooms. We advise going for the beer barrel bed room, given to the owner by the local Pott's brewery.
Make your beer
If you like the idea of brewing at home but you're not where or how to start beer kits are a good introduction. Each brew comes with all the equipment you need, ingredients, recipe and simple step-by-step instructions so you can't go wrong. There's huge selection out there, here are some delicious options:
Woodforde's Admirals Reserve kit
Hawkshead gold beer making starter kit
Munton's winter warmer
St Peter's Golden ale kit
Tiny Rebel Cwtch kit
Brewly kit
iBrew real ale kit
Kilner home brew lager
Art
Pubs began to appear in the British Isles during the Roman colonisation of Britain, so that's another thing the Roman's did for us. This hand drawn pen and ink and artwork of The Free Trade Inn in the Ouseburn Valley is the perfect way to celebrate this most British of institutions.
Perfect beer dispense
The PerfectDraft beer dispenser allows fresh, chilled bar-quality draught beer in the home. Pop in the keg and you're good to go. There are six beers available including all the Leffe variants and the wheat beer classic Hoegaarden. Order now and you'll also receive a £70 discount.